A family tradition of quality craftsmanship.
Ehrmin Remodelers is a family-owned business that was founded in the late 1920s. Over the decades, our company has seen a lot of changes. Today, we focus on building and remodeling, but our company was originally founded by professional painters. Although painting is no longer at the forefront, four generations of family members have all shared the same commitment to maintaining the highest standard of execution and quality.
Stacy Ehrmin 

Warren
Ehrmin Remodelers owner 2020-Present
Stacy became a familiar face on the Ehrmin jobsite at a young age. She loved working with her hands, and followed her father, Gary, on the jobsite whenever she could. In the beginning, Gary would keep her entertained hammering nails into a spare board, but it wasn't long before Stacy was asking for jobs that would make an impact. Happy to encourage her ambition, Gary taught her how to remove locks from doors. That was just the start of the many lessons Stacy would learn from her father and others in the construction field.
In 2002, Stacy went from a visitor on the jobsite to a full-fledged member of the Ehrmin Remodelers' construction crew. Although she has faced many challenges as a woman in a male-dominated field, Stacy has earned a reputation for her natural talent and hard-earned skills. Not only was she willing to roll up her sleeves and take on any work that needed to be done on the jobsite, she was also working directly with customers and was responsible for coordinating subcontractors.
In 2020, Stacy took over ownership of Ehrmin Remodelers. Although she is carrying on her family's legacy of providing high-quality craftsmanship and excellent customer service, she is breaking the mold as the first woman owner.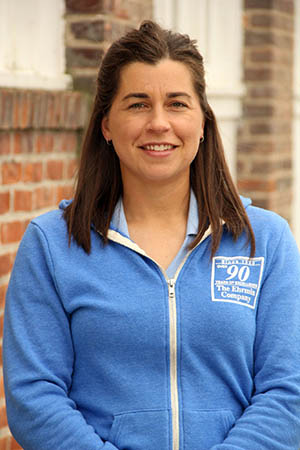 Gary Ehrmin
The Ehrmin Remodeling Company owner 1975-2020
Carrying on the family tradition, Gary learned the skills of the trade by working with his father, Stanley. At a young age, Gary was a frequent visitor on job sites. He would help with everything from sanding woodwork to operating the spray equipment, learning the professional skills that helped him find success in the building trades.
Watching his father also taught Gary the importance of quality craftsmanship, an ideal that was put to the test after the recession in 1981. With the economy finally rebounding, Gary learned that his builders wanted him to cut pricing in order to increase business. When he asked how he was supposed to do that, it was suggested that he cut quality. Not only did he refuse to sacrifice the quality of his materials or craftsmanship, but he began to increase his efforts to win building and renovation contracts. "All those years of tutelage from my father ingrained in me that your name is who you are and proof of that is reflected in your work," said Gary. "That is a lesson I will never forget or dismiss."
By 1990 the family business had been renamed The Ehrmin Remodeling Company and was no longer focused on residential and commercial painting. Instead, 80 percent of our work came from building and remodeling projects. To this day, quality craftsmanship and excellent customer service have continued to be the cornerstone of every decision made in both good times and bad.
Stanley Ehrmin
The Ehrmin Company Owner 1953-1975
Victor's son, Stanley, learned the trade by apprenticing with his father. He took over leadership of the company when his father passed away in 1953. He spent most of his career engaged as a union painting contractor specializing in new home construction. Our family fondly remembers how Stanley would tell the story of the day a salesperson stopped by to demonstrate a new painting tool. The tool, well known today as a paint roller, was so impressive that Victor refused to give it back to the salesman.
Stanley supervised a crew of 6-8 painters during his ownership of the company. When he first started his apprenticeship, paint stores only sold the ingredients to make paint. These ingredients included linseed oil (binder), lead (pigment) and solvent (thinner). The crew would spend their winters and downtime mixing the ingredients to make the paint they would use for the business.
Victor Ehrmin
Ehrmin Remodelers founder and owner 1925-1953
During the Great Depression, Victor worked as a painting foreman for the Works Progress Administration. With close to 100 painters working under his supervision, Victor left his mark on the Toledo area. Although there is no way to know for certain which projects he worked on, our family can't help but wonder every time they see a plaque commemorating the WPA projects at the Toledo Zoo or Toledo Metroparks. 
 While he was employed by the WPA, Victor also began his own business, Ehrmin Painting and Decorating. He employed 9-12 painters who worked full-time and were hired primarily for work in the older estate section of Ottawa Hills. Back then, all of the painting was done by brush, some as big as 12 inches wide. Experienced and meticulous, Ehrmin painters were known to be skilled enough to paint a multi-lite sash with a 12-inch brush and not get a single spot of paint on the glass.
Ehrmin Remodelers is proud to serve
Bowling Green, Grand Rapids, Haskins, Holland,
Monclova, Maumee, Perrysburg, Sylvania
Toledo, Waterville, Whitehouse communities.
15552 Five Point Road
Perrysburg, Ohio 43551
419-878-5843
Monday-Friday: 8 a.m. - 5 p.m.